On Sunday 5th July, news broke of an undercover Times investigation revealing that workers at a factory in Leicester who were in the supply chain for fashion giant Boohoo were being paid as little as £3.50 an hour. By the following Wednesday over £2bn in Boohoo's market value had been wiped out.
Boohoo share price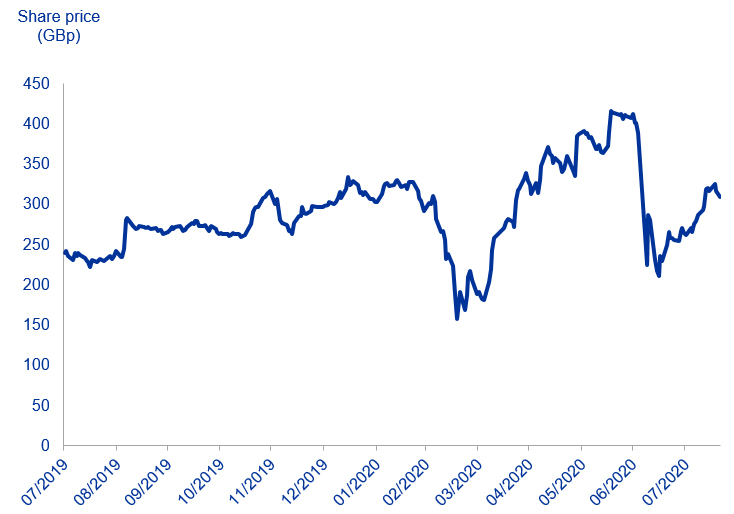 Source: Bloomberg
As at: 20th August 2020
This should have served to validate socially responsible investing (SRI), demonstrating that unethical practices do not go unpunished by the market. Instead SRI was left discredited. As it turned out, plenty of sustainable funds were invested in the company due the strong ESG ratings ascribed to it. Take the MSCI ESG rating as an example; a few weeks before the Boohoo scandal broke, the company's AA rating was reconfirmed, including scoring above industry average in supply-chain labour standards. This likely gave a false sense of security to many investors.
Were there any red flags to be found? Joachim Klement, investment strategist at Liberum Capital, has highlighted data from the Fashion Transparency Index for this case. This index involves engaging with more than 200 fashion brands around the world and verifies how much each company discloses. Comparing Boohoo to ASOS and Zalando on this basis, the relative lack of disclosure is clear. In particular, Boohoo scored zero points in traceability. The company provides no information about where they buy their clothes or source their raw materials.
Transparency of online fashion retailers by area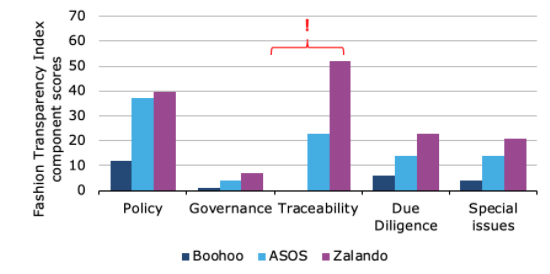 Source: Fashion Transparency Index
This highlights a serious limiting factor when relying on ESG ratings – the rating system itself is only as good as the underlying data available. In many cases, ratings are calculated based on available data alone, with missing data simply being ignored. There may be reasonable justifications for companies not giving fuller disclosure, for example those limited by resources. But it does open up the system to be gamed.
Even if a company's disclosure is up to scratch, there are still complications in depending on ESG ratings. This is because the way rating agencies weight different factors in their scoring systems can vary drastically. The Financial Times recently highlighted this using Tesla as an example. The company has an A rating from MSCI but is rated in the bottom 10% by JUST Capital. The difference is due to the relative weighting of workers' rights and environmental impact, with JUST Capital placing more emphasis on the former and MSCI on the latter. Researchers at the Massachusetts Institute of Technology found commonality in scores only 60% of the time for the same company across a range of ESG issues.
That is not to say that having standardised ratings with little diversity of thought should be the end goal. But this does present a new complexity for investors choosing sustainable strategies that are heavily reliant on third-party rating providers. The explosive growth in ESG tracker funds magnifies this effect.
Exhibit 1: ESG ETF AUM is projected to grow 7x to 2029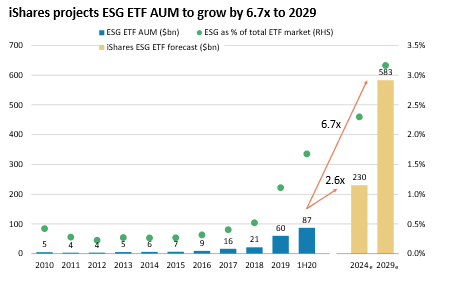 Source: iShares, Morningstar, Morgan Stanley Research. Note projections in yellow interpolated from iShares "Reshaping Sustainable Investing" (April 2020). Projections for the broader ETF market based on the average monthly year-on-year change in the total ESG market over the last 2y (+13% p.a.), forecast out to 2029.
At Oldfield Partners, we do not take ESG ratings at face value. We have already written about this pitfall in a case study on E.ON. We do not create elaborate scoring systems which mean a company can do well in one area and poorly in another, but the overall score is still 'good'. Instead, we use ESG rating reports as a starting point for our own assessment of the material risks to an investment case. As fundamental long-term contrarian Value investors, we consider ESG a logical part of company analysis, forming part of our risk assessment of business fundamentals. More on this topic can be found at https://www.oldfieldpartners.com/About-Us/ESG.