Print friendly version
At Oldfield Partners, we are classic, contrarian value investors and everything we do is driven by valuation. In a world that must transition to net zero by 2050, to consider a new investment without considering the environmental, social and governance issues as part of your analysis and valuation is to invest knowing only half the story.
We recently considered an investment in German industrial conglomerate, Thyssenkrupp. At first glance, Thyssen's prevailing valuation looked very attractive with a price to earnings ratio to September 2022 of just three times, a price to book ratio of 0.35 times and an enterprise value to earnings before interest, tax and depreciation ratio of just one! The balance sheet was clean with net cash equivalent to over 50 per cent of the market capitalisation of the company. This certainly appeared to be a statistically cheap stock.
The group is part way through a major restructuring and the cash-rich balance sheet is the result of selling their elevator business in 2020. The current chief executive has given the disparate operating businesses autonomy and designated certain businesses 'for sale'. The elephant in this particular room is the original core business of steel making.
Thyssen's steel business has a long history of poor financial returns but the rise in commodity prices in the last year has meant that steel prices have risen and the profitability of the steel business has improved significantly. The group is now expecting to generate positive free cash flow in the second half of the current year. The group also has a business unit based on electrolysis that has the potential to become a major provider of green hydrogen given their proven technology and industry-leading order backlog. The company rebranded the electrolysis business as Nucera ahead of a potential stock market listing. Comparable companies are valued very highly by the market given the significant potential.
A first-glance sum-of-the-parts valuation of Thyssen suggested significant value despite the cash requirements of the large, unfunded pension plan and therefore the company was an enticing idea and we set about further analysis.
The elevator business had been the group's crown jewel and the cash was needed to restructure the steel business, Germany's largest domestically-owned steel producer. The social democratic nature of the German economy means that laying off employees and down-sizing a business is always a very difficult and time-consuming task. When that business is relatively large and seen as 'strategic' this tends to make the whole idea even harder to achieve. The company's management had agreed with the unions a long-term restructuring plan for the steel business. Unfortunately, on our analysis, this doesn't go far enough in right sizing costs. Thyssen's steel business is inefficient and higher cost than most of its competitors and is exclusively based on traditional blast furnaces (BOFs). The blast furnace production method has long been preferred for high quality steel and, often, at lower cost than electric-arc furnaces. The bad news is that blast furnaces are significantly more carbon intense.
To make matters worse, among major blast furnace operators globally, the German steel industry is the highest cost player sitting on the far right of the cost curve – not great for a globally-traded commodity product.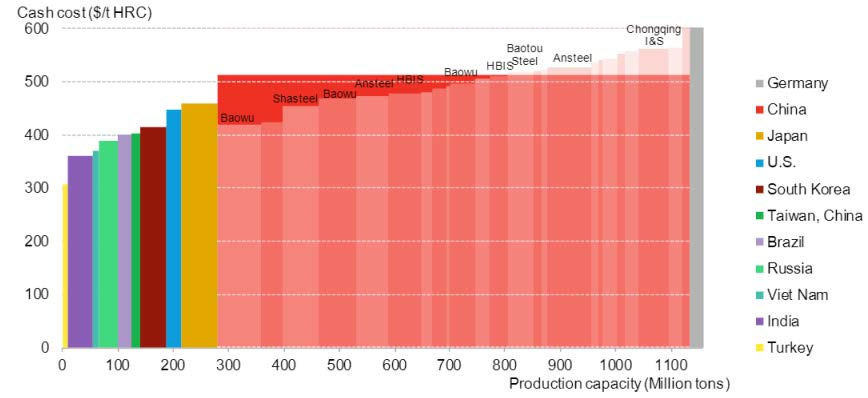 Figure 1: Average BF/BOF cash cost curve for hot-rolled coil steel in major countries, Q4 2020 Source: Bernstein, Metal Consulting, World Steel Association, BloombergNEF. Note: Hot-rolled coil (HRC) is the most common form of finished steel. Chinese capacity shown by company is only 130 million tons of the total 900 million tonnes produced by China. Bernstein have scaled the capacity to better show the relative costs and capacity between suppliers.
Traditional blast furnace steel production produces about 1.8 tonnes of carbon dioxide for every tonne of steel produced. This makes the steel industry among the three biggest carbon emitting industries in the world accounting for about 8% of global carbon emissions. There are several ways to reduce the carbon intensity of blast furnace steel-making but while helpful in lowering life-time carbon emissions ultimately, to meet its net zero 2050 commitment, the company needs a fundamental change in their manufacturing process switching away from blast furnaces to a direct-reduction [of iron ore, or DRI] process, using green hydrogen, and combining this with a green electricity-powered melting unit (also known as electric-arc furnaces or EAFs).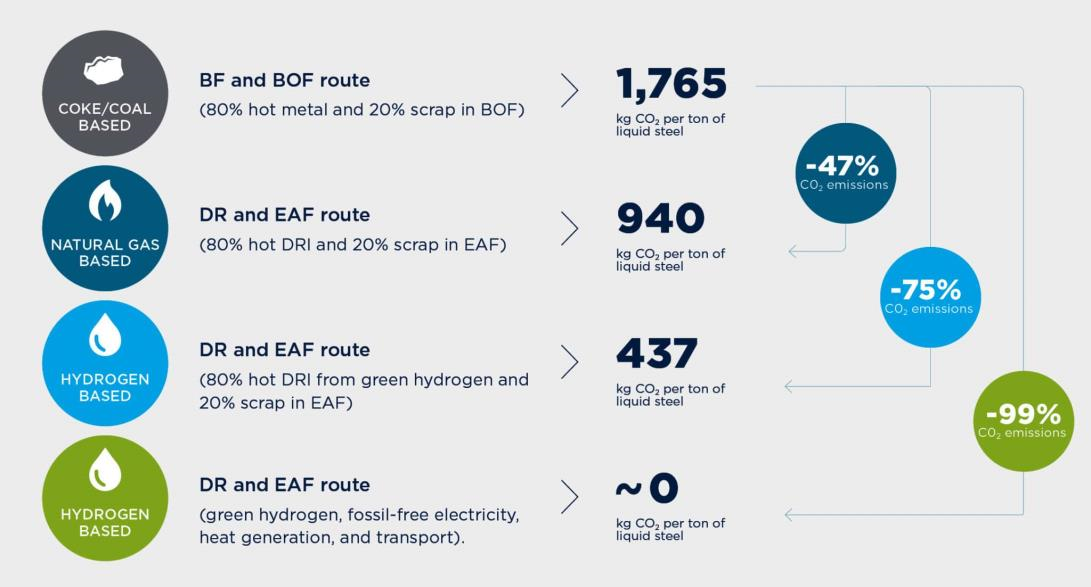 Figure 2: Comparison of carbon intensity of different steel making processes. Key: BF/BOF - Blast Furnace, DR/DRI - Direct Reduction Iron Ore, EAF - Electric Arc Furnace. Source: Metals Magazine.
For some time, the European Union has operated a cap-and-trade system for carbon emissions and until relatively recently the European Union has doled-out free carbon credits to heavy industry in Europe. This approach was revised and tightened to ensure a lower supply of credits and the situation has changed with the carbon price having risen from $5 per tonne in January 2019 to $83 today. While it is hard to know for sure, we believe that Thyssen has sold more excess carbon credits than its competitors and it now faces a reckoning at these higher prices.